NEWS
EJIP Receives CSR Award in Bekasi Regency 2020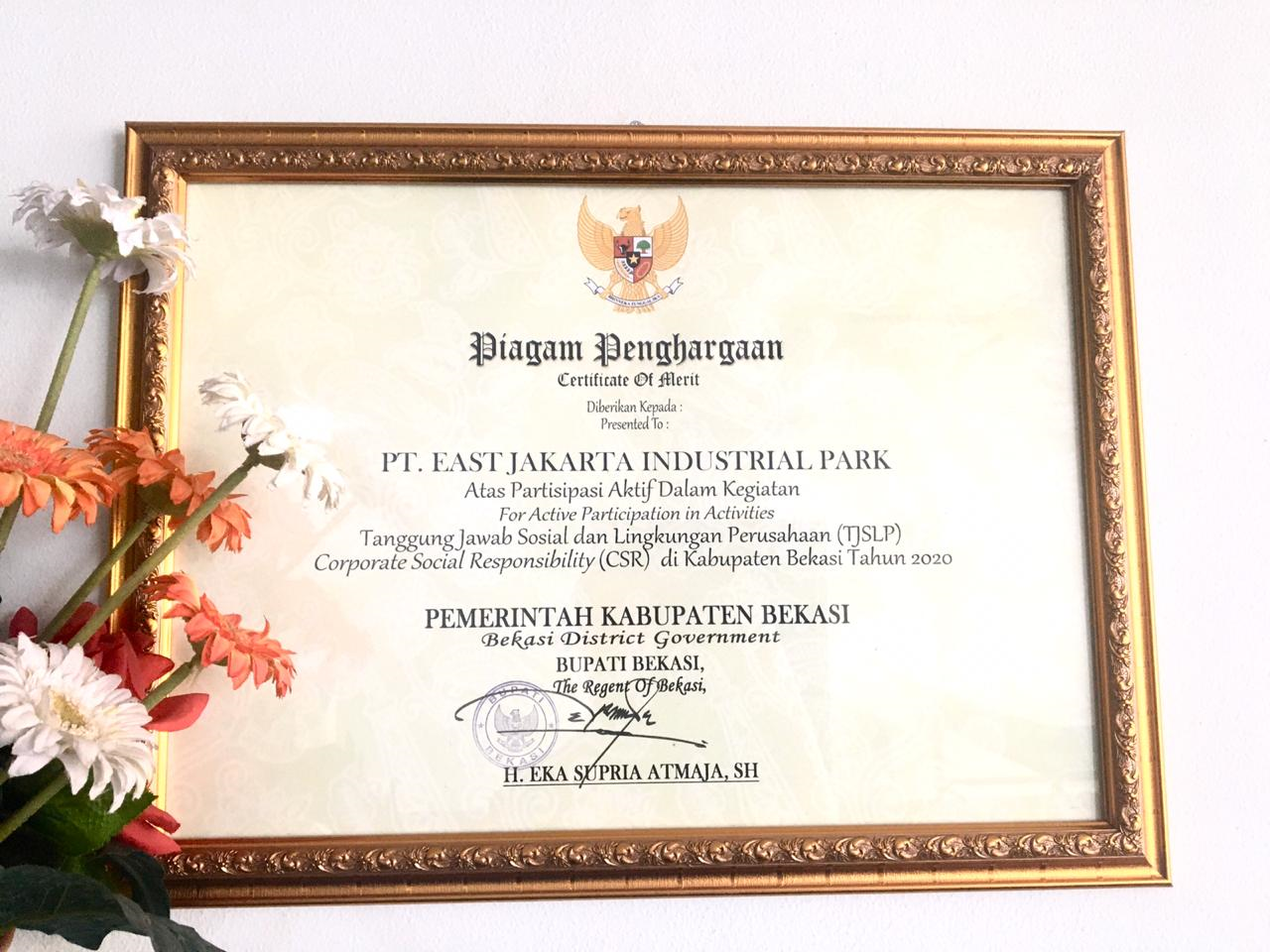 17 December 2020
PT. EJIP received a CSR award from the Bekasi Regency Government for what the company's CSR has done so far this year.

Some EJIP CSR activities in 2020 related to the Covid 19 Pandemic along with several tenants are: Providing Food for Covid 19 Affected Residents in South Cikarang District, Providing PPE Assistance to the Task Force on Tackling the Covid 19 Pandemic as well as several other Routine CSR activities carried out every year.
The charter was handed over directly by the Regent of Bekasi, Eka Supria Atmaja, SH on Thursday (17/12) at the Holiday Inn Hotel in an event entitled "Synergy And Coordination of CSR Kab Bekasi 2020."
13 tenants in the EJIP area who also received the same award are :
PT Aisin Indonesia

PT Mecoindo

PT Omron MFG of Indonesia

PT Indonesia Epson Industry

PT Marsol Abadi Indonesia

PT Taiyo Marsol Indonesia

PT Threebond Garpan Sales Indonesia

PT SIK Indonesia

PT Hirose Electric Indonesia

PT Standard Indonesia

PT Toso Industry Indonesia

PT Sumisho Global Logistics Indonesia

PT Calpis Indonesia.
Attending the CSR award ceremony were Metro Bekasi Police Chief Kombes Pol Hendra Gunawan, S.I.K, Dandim 0509/Kab. Bekasi, Head of Bappeda, employers association, forkopimda and a number of representatives of companies and industrial estates receiving the Bekasi Regent award.
Other ニュース
18 September 2021
EJIP Supports World Cleanup Day 2021 at Bekasi
Representatives of PT. EJIP attended the World Clean Up Day 2021 on Saturday (9/18) which was attended by the Regent of Bekasi, Dr. H. Dani Ramdan, MT. The event was simultaneously held in more than 150 countries, 34 provinces and involved more than 13 million volunteers.