NEWS
REGENT OF BEKASI VISIT TO EJIP : SOCIALIZATION THE REGULATION OF REGENT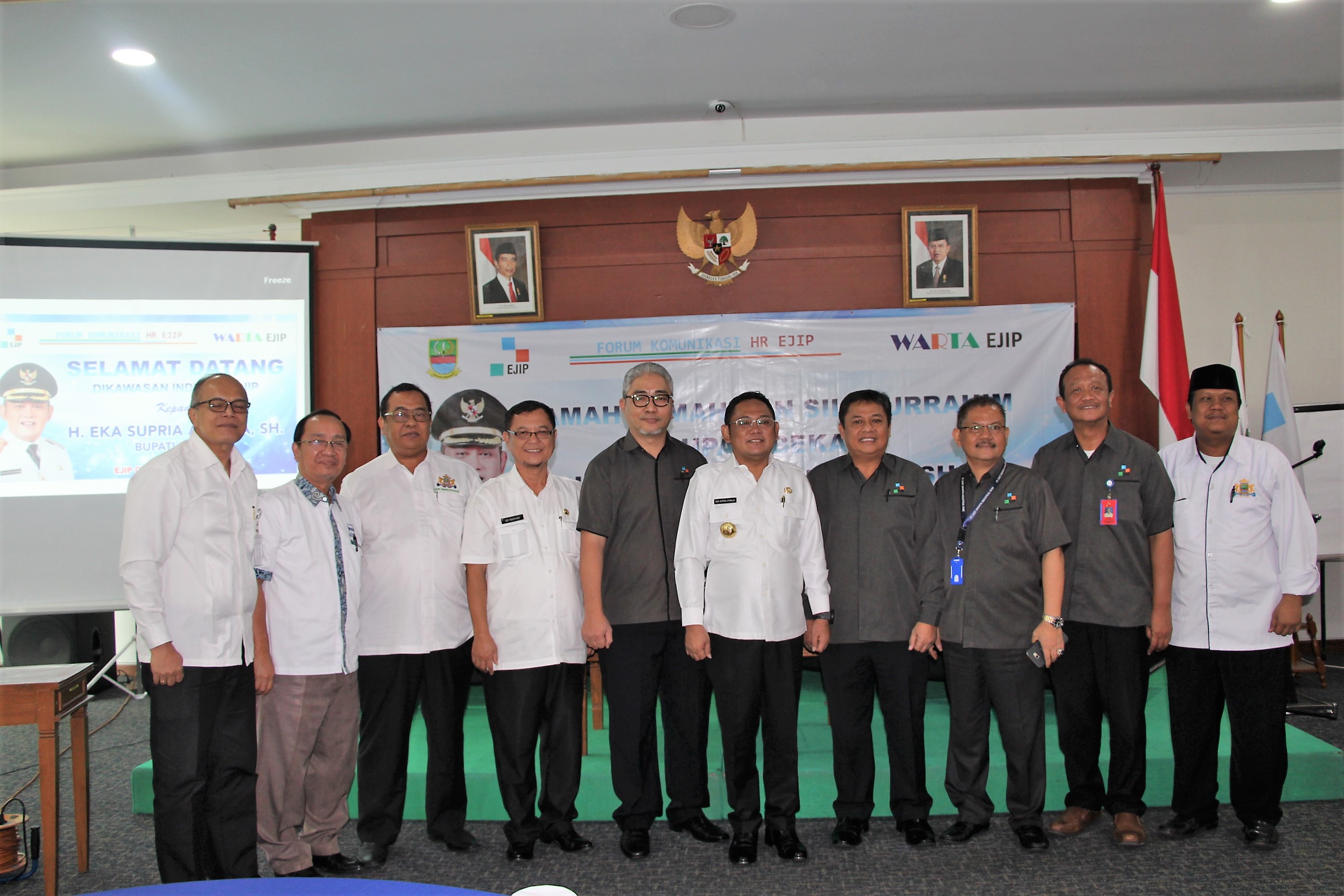 03 July 2019
Regent of Bekasi, Mr.Eka Supria Atmaja visited to EJIP Industrial Park, South Cikarang on Wednesday (3/7/2019). In addition to his greetings as a new Regent of Bekasi, Mr.Eka gave an explanation about the regulation of Regent of Bekasi no.9 year 2019 regarding to the expansion of employment opportunities in Bekasi Regency. The Board of Directors from PT. EJIP, the company representative and the HR practitioner of EJIP Industrial park, the head of Disnaker Bekasi Regency, the Chairman of DPK Apindo Bekasi Regency, the Chairman of KADINDA Bekasi Regency, and the Chairman of SPSI Kota/Bekasi Regency also took part in this meeting.
As for the practical ways of expansion of employment opportunities, it will be discussed further by inviting the company representatives from each area of the industry." Later we will invite HRD to discuss about technical aspect of hiring, including the implementation of tests and others," said Eka.
Mr.Eka hopes, with his visit to EJIP he can contribute to the communities in Bekasi Regency for providing more chances of employment. He asks for synergy with the companies to build Bekasi Regency.
After the socialization event, Mr.Eka together with government officials of Bekasi Regency continued to visit PT. Indonesia Epson Industry to directly review one of the company's locations in the EJIP.

Other News
31 August 2019
EJIP Celebrate 74th Indonesian INDEPENDENCE DAY
The excitement of celebrating Independence Day can not only be done in a suburban. EJIP as an Industrial Park in South Cikarang, conducted the EVENT of 74th Indonesian INDEPENDENCE DAY on August 31.