NEWS
BEKASI REGION CELEBRATE MAY DAY 2019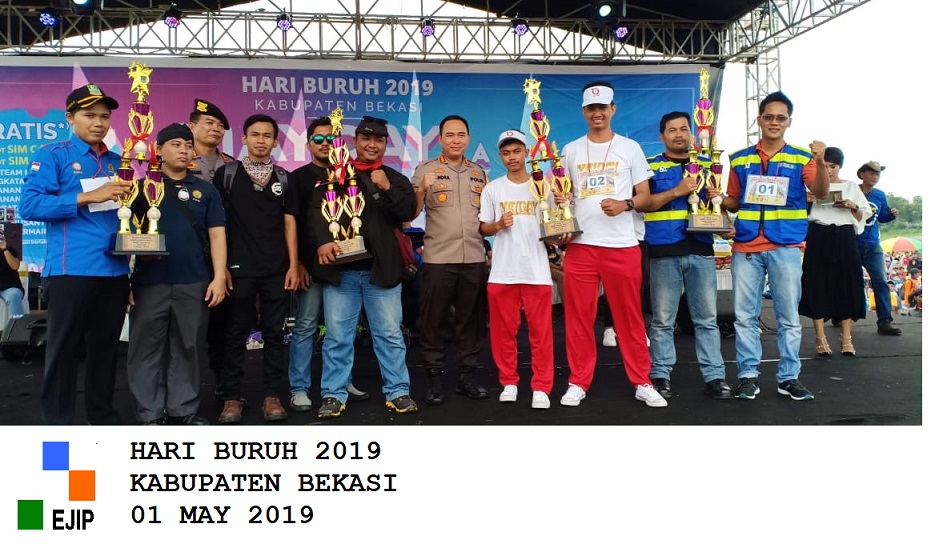 01 May 2019
CIKARANG, ejip.co.id. – Bekasi Region celebrate May Day or International Labor Day on Central Park Meikarta, Lippo Cikarang on May 1, 2019. Various activity were held at May Day Celebrations, such as free charge for driving license service, free charge for repair of motorbike, and entertainment stage that was live performance from local singer "Trio Macan", SUCA, and DJ performances.
Also other agenda, the carnival and marching walk are held at Plaza of Bekasi Government. PT. East Jakarta Industrial Park wins 1st place for carnival walk and 2nd Place for creative costumes.
Eventhough the commemoration was celebrated in Cikarang, still representative of labor went to Central city Jakarta and also to Bekasi Regency. Therefore, a total of 1,278 police personnel in Bekasi Regency secured the event. Security is carried out along the path by escort the labor who went to Jakarta and at the central point of labour activities in Bekasi Regency.
In the other place, Mr. Jokowi on May Day commemorade with labors and met labor organization KSPI. All parties hope, this year's May Day celebration is going smooth with excitement and joy, while maintaining public security and order.

Other News
16 December 2018
Mass Circumcision
Annual Program of EJIP and Al-Istiqomah Foundation